Introduced in Season 17, the Express Pass, also called as the Pase Directo in the Latin American version and as the Fripass in the Norwegian version, allows a team to skip any task, of their choosing without penalty, the only exception being the Fast Forward, and immediately receive the next clue. The pass can be used up until the leg that it expires. The pass may be awarded to the team who arrives at the Pit Stop first on a certain leg (usually the first leg) of the race, given by another team who were awarded two Express Passes, or by winning it in a separate, optional task.
If a U-Turned team uses an Express Pass to skip a Detour, that team must still complete the other side of the Detour. Additionally, a team that is U-Turned may use an Express Pass to skip the other side of the Detour.
Starting from Season 22, the award for placing first in the first leg was two Express Passes (one for the team to use for themselves and one to give away before the fourth leg). This concept of the Express was used until Season 24, as it returned to only one Express Pass rewarded in Season 25.
Additionally, in Season 25, the Express Pass was rewarded and can be received as part of an optional searching task on the second leg.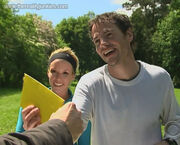 Double Express Pass
Starting from Season 22, the first place team in the first leg was awarded two Express Passes. One is for them to use while the other has to be given to another team before the end of a designated leg (fourth leg for season 22, fifth leg for subsequent seasons). The Double Express Pass was continued until Season 24.
Latin America season 5, Australia season 3, the first four Canada seasons and The Amazing Race 1 (China) were the only international versions to give the Double Express Pass.
Three Express Passes
In the fifth Canadian season, three separate Express Passes were up for grabs for any team to get. It's possible that one team could get multiple Express Passes, but that team must give their extra pass(es) to another team (or two teams) before the end of the third leg.
Express Pass Winners
Trivia
Dave & Connor were the first team to use a Express Pass and win the leg in the U.S. Version. 
Ernie & Cindy were the first team to win the race after winning the Express Pass.
Marc & Kat were the first team to win both the Express Pass and the Salvage Pass.
References
Community content is available under
CC-BY-SA
unless otherwise noted.