Joseph Meadows and Monica Cayce are a Dating team on the 9th season of The Amazing Race.
Profile
Joseph & Monica have been dating for the past three years. This fun-loving couple met at a local bar in Fayetteville, Arkansas during college when Joseph claims he "just about broke his neck when Monica walked through the door." After a brief separation for a few months, they missed each other tremendously and decided to give their relationship a second try. They've been together ever since.
Joseph describes himself as confident and funny, while Monica is independent and tenacious. Born and raised in the South, the couple shares a love of country music, wakeboarding and traveling. Joseph's proudest accomplishment has been building and selling his first home.
Although Monica's primary motivation for taking part on THE AMAZING RACE is to pay off her student loans, both she and Joseph are eager to take part in an experience that will bond them for life.
The Amazing Race 9
Race History
Leg 1: 6th
Leg 2: 3rd
Leg 3: (8th) 6th
Leg 4: 3rd
Leg 5: 3rd
Leg 6: 2nd
Leg 7: 2nd
Leg 8: 2nd
Leg 9: 3rd (Yielded by BJ & Tyler)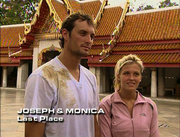 Post-Race
After the race, they got married.
Trivia
References