Wiki Targeted (Entertainment)
Play Sound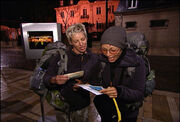 At the beginning of most legs, teams receive an equal amount of cash to purchase transportation, food, and other necessary items along the race. This money is usually given in U.S. Dollars regardless of the current location of the race.
Variations
On leg four of Season 10, money was given in local currency. The amount of money varies from leg to leg, ranging from no money to hundreds of dollars. In Season 1 and Season 10, teams were allocated zero dollars during one of the legs, and in Season 4, teams were given only one dollar for each of the final two legs. On Leg 3 (Mongolia-Vietnam) of Season 10, teams had to earn their money for that leg by selling flowers in the Roadblock.
Airline Ticket Credit Card
All teams also carry a credit card used to purchase economy airline tickets, and, in Season 8, gasoline. This card may not be used in any other situation.
Non-Elimination Penalties
Main article: Non-Elimination Leg
From Season 5 to Season 9, teams were penalized for finishing last on a non-elimination leg. Teams were forced to surrender all collected money, and would not be given any to start the subsequent leg.
Earning Money
If a team spends all of their money or has it taken away in a non-elimination round, they may try to get more money in any way that doesn't violate the local laws. This includes borrowing money from other teams, begging from locals or selling their possessions. One rule that was clarified in Season 7 is that teams may not beg for money at United States airports. Further, on Leg 3 (Mongolia-Vietnam) of Season 10, teams were not permitted to beg for or sell items in exchange for money.
Emergency Funds
Teams have reported on the existence of an emergency fund of approximately US$200 that is carried by their crew and can only be used in extreme circumstances, but generally not as a means to pay for any activity related to the Race. However, the exact amount is not known, nor are the exact circumstances when it can be used.
---