The One Way board is where a team may force another team to perform one specific side of the Detour and disallow them from switching. Its located immediately before a Detour.
It was first introduced on The Amazing Race Canada 7 with the 'Double' and 'Blind' variants applied to it.
Usage
Upon arriving at a One Way board, teams must read the immediately succeeding clue from the Clue Box in order to learn the Detour choices. Like the Yield and U-Turn, teams must stop at the board and state aloud whether or not they choose to One Way any of the teams (if there are available slots), or the results of a One Way (If the One Way was used). If a team chooses to utilize a One Way, they must place a photo of the team they wish to penalize, their own photo (called a 'Courtesy of' photo), and the Detour they wish the penalized team to do. These are located in the box of the One Way board.
Teams are not aware of their positions, as such, its possible for a team to One Way another team ahead of the One Way point, in which case the One Way will be rendered ineffective.
One Way Types
Double Blind One Way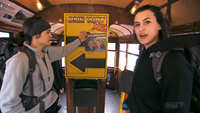 The One Way was introduced as a Double Blind One Way. A Double Blind One Way allows two seperate teams to anonymously One Way two other teams. In a Blind Double One Way the teams utilizing it do not place their 'Courtesy of' photos, thus; making the users anonymous. Furthermore, if a team is One Wayed, they are permitted use the second slot (if available) to One Way another team.
One Way History
References
Clues & Other Route Markers

·

·

·

·

·
·

·

·

·

·


Others: Handicap · One Way · Date Night · Switchback