Wiki Targeted (Entertainment)
Play Sound
A Speed Bump is an additional task assigned as a penalty for the team that checks in last during a non-elimination leg.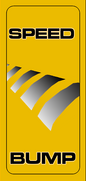 Beginning in The Amazing Race 12, teams who were saved from elimination during a non-elimination leg will have to perform an extra task sometime during the next leg.
Teams would be alerted to the upcoming Speed Bump by a Route Marker clue prior to it; the Speed Bump itself is displayed in a manner similar to the Yield showing the affected team's picture at a stand near to the regular Route Marker. Once the team completes the Speed Bump task, the next clue they receive is the clue that they would have received at the Route Marker. If a team does not complete a Speed Bump, the team will receive a four-hour penalty at the Pit Stop (as shown in the Latin American version).
All seasons of The Amazing Race (Latin America) and The Amazing Race Canada have used the Speed Bump while The Amazing Race Australia and The Amazing Race Asia introduced it on their 3rd and 5th season respectively.
Speed Bump History
Season
Episode
Leg
Last Place
Survived?
Notes
Velyki perehony
6
6
Yes
2 of 7
Trivia
Ariel & Nora became the first team to receive a Speed Bump and quit it.
References
Clues & Other Route Markers

·

·

·

·

·
·

·

·

·

·


Others: Handicap · One Way · Date Night · Switchback