Template:Infobox AmazingRace The Amazing Race 19 is the nineteenth season of the reality television show, The Amazing Race. Applications were due on January 4, 2011. Casting interviews were scheduled in March 2011 and filming was in June/July 2011.
Teams
Amani & Marcus Andy & Tommy Bill & Cathi Ernie & Cindy Ethan & Jenna Jeremy & Sandy Justin & Jennifer Kaylani & Lisa Laurence & Zac Liz & Marie Ron & Bill
Main article: The Amazing Race 19 Teams
Results
The following teams participated in the Race. Placements are listed in finishing order:
Photo
Team
Relationship
1
22
3
4
55
6
7
8
9
10
11
12
30px
Ernie & Cindy
Engaged
1st
4th
5th
5th
3rd
5th
2nd7
1st»
2nd
3rd
2nd
1st
7-6
30px
Dating
2nd
6th2
3rd
3rd
7th
3rd
6th
5th
3rd
2nd
1st
2nd
6-7
30px
Married
5th
9th2
6th
6th
1st
7th
4th
4th
1st
4th
3rd
3rd
6-7
30px
Andy & Tommy
Pro Snowboarders
7th
1st
1st
1st
5th
1st
1st
3rd
4th
1st
4th
Eliminated 8th
6-6
30px
Grandparents
11th
7th2
7th
7th
2nd
6th6
3rd
2nd«»
5th
5th
Eliminated 7th
6-5
30px
Father/Son Adventurers
6th
2nd
2nd4
4th
6th
4th
5th»8
6th«
Eliminated 6th
4-5
30px
Justin & Jennifer
Siblings
3rd
8th2
4th
2nd
4th
2nd6
7th
Eliminated 5th
4-4
30px
Liz & Marie
Twins
10th
5th2
8th
8th
8th
Eliminated 4th
2-4
30px
Kaylani & Lisa
Former Vegas Showgirls
9thH1
3rd
9th
Eliminated 3rd
1-2
30px
Ethan & Jenna
Dating
4th
10th2,3
Eliminated 1st
2-0
30px
Ron & Bill
Domestic Partners
8th
11th2,3
Eliminated 2nd
1-1
Notes

1: Kaylani performed the Hazard task.
2: Eight of the 11 teams arrived at the Pit Stop without donating all of their money at the 'Aisyiyah Orphanage (see below), and had to go back and donate the rest of their money before being allowed to check in. The initial placements for all teams are as follows (the three boldfaced teams were not turned back): 1st: Ernie & Cindy; 2nd: Liz & Marie; 3rd: Bill & Cathi; 4th: Andy & Tommy; 5th: Jeremy & Sandy; 6th: Justin & Jennifer; 7th: Amani & Marcus; 8th: Laurence & Zac; 9th: Ethan & Jenna; 10th: Kaylani & Lisa; 11th: Ron & Bill
3: Leg 2 was a double-elimination leg. The last two teams to be checked in at the Pit Stop were both eliminated.
4: Laurence & Zac initially arrived 1st, but were issued a 15-minute penalty for using more than the allowed number of buckets at the Grass Fed Detour (see below). During this time, Andy & Tommy checked in for a 1st place finish, dropping Laurence & Zac to 2nd.
5: Leg 5 had two Roadblocks and no Detour. The team member who sat out the first Roadblock was required to perform the second one.
6: Justin & Jennifer and Bill & Cathi initially arrived in 1st and 3rd, respectively, but did not pay the truck drivers who helped them to the Pit Stop. They were required to turn back and pay their drivers, ultimately dropping them to 2nd and 6th, respectively.
7: Ernie & Cindy used the Express Pass to bypass the Detour in Leg 7.
8: Laurence & Zac used their U-Turn power on Amani & Marcus. However, Amani & Marcus had already passed them and were not affected by the U-Turn.
Red = team eliminated.
Orange = non-elimination leg.
Coral = leg number had no mandatory rest period at the Pit Stop and ordered to continue racing.
Purple = team used the Express Pass.
Blue = team who came in last on an elimination leg was saved by the team with the Salvage Pass.
Fuchsia = team used the Salvage Pass to gain a time advantage.
Green ƒ = team won the Fast Forward.
Yellow > = team used Yield • < = team received Yield.
Brown » = team used U-Turn • Brown « = team received U-Turn.
Gold ∪ = team penalized for Automatic U-Turn.
Blue H = team penalized with a Hazard.

Route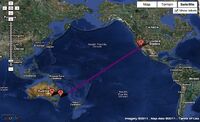 Click here for this season's Route Map
Episodes
Race Elements

Route Information •
Detour •
Roadblock •

Fast Forward •
Yield •
Intersection •

U-Turn •

Speed Bump •

Hazard •

Pit Stop
---
Means of Transportation Required:


Air travel •

Bus •

Ferry •

Train •
Car •

Bicycle
Leg 1 - Episode 1 (United States → Taiwan)
Title: "Kindness of Strangers" (Taiwan) - Kaylani
Starting Line: Hsi Lai Temple, Hacienda Heights, California, United States

Teams had to search through several hundred oil-paper umbrellas for one that had the correct set of letters printed on it ("TAI") that when combined twice with their clue of six other letters ("WANPEI") would reveal the name of their first destination: Taipei, Taiwan. Once they presented Phil with the correct umbrella, he gave them keys to one of 11 Ford Explorers parked outside the temple. The last team to complete the task was penalized with the Hazard. The first eight teams to arrive at the airport were booked on an earlier flight from Los Angeles to Taipei; the remaining three teams were booked on a second flight on another airline that departed 20 minutes later.

Flight from Los Angeles International Airport, Los Angeles to Taiwan Taoyuan International Airport, Taipei, Taiwan
Ximending Commercial District, Taipei

Teams were told to "look up" for their next clue, and were left to figure out that their clue was displayed on an electronic billboard in Chinese: 台北孔廟 (Taipei Confucius Temple).

Taipei Confucius Temple, Taipei

One team member had to find a nearby payphone where they had to call a particular phone number. The person on the other end would give the racer one of Confucius's proverbs ("In all things success depends on previous preparation, and without such previous preparation there is sure to be failure."). Without writing it down, he or she would then have to repeat the proverb verbatim to a temple monk. Once they got the proverb right, they would receive their next clue. If they were incorrect, they had to call the number, again, and make another attempt.

Core Pacific City Mall, Taipei

Kaylani & Lisa had to travel to the Core Pacific City Mall, where one of them had to perform an indoor bungee jump before they could receive their next clue. Kaylani performed the Hazard task.

Daija Riverside Park, Taipei

Teams joined a dragon boat team. One team member kept pace by beating a drum, while the other team member joined the paddling crew. Once they made it through the course, they would receive their next clue.

National Revolutionary Martyrs' Shrine, Taipei
Leg 2 - Episode 2 (Taiwan → Indonesia)
Title: "The Sprint of Our Life" (Indonesia) - Sandy
Leg 3 - Episode 3 (Indonesia)
Title: "Don't Lay Down on Me Now!" (Indonesia) - Marcus
Leg 4 - Episode 4 (Indonesia → Thailand)
Title: "This Is Gonna Be a Fine Mess" (Phuket, Thailand) - Bill (of Bill & Cathi)
Leg 5 - Episode 5 (Thailand)
Title: "I Feel Like I'm in the Circus" (Bangkok, Thailand) - Jennifer
Leg 6 - Episode 6 (Thailand → Malawi)
Title: "We Love Your Country Already; It Is Very Spacious" (Malawi) - Cathi
Leg 7 - Episode 7 (Malawi)
Title: "Move Goat" (Malawi) - Marcus
Leg 8 - Episode 8 (Malawi → Denmark)
Title: "Super Shady" (Copenhagen, Denmark) - Cindy
Leg 9 - Episode 9 (Denmark → Germany → Belgium)
Title: "It's Speedo Time" (Brussels, Belgium) - Tommy
Leg 10 - Episode 10 (Belgium)
Title: "Release the Brake!" (Brussels, Belgium) - Marcus' driving instructor (non-racer)
Leg 11 - Episode 11 (Belgium → Netherlands → Panama)
Title: "We Are Charlie Chaplin" (Panama City, Panama) - Tommy
Leg 12 - Episode 12 (Panama → United States)
Title: "Go Out and Get It Done" (Atlanta, Georgia) - Marcus
Pitstop Greeters
Click here for this season's Greeters
Situations
Good Situations
Bad Situations
Ethan & Jenna and Ron & Bill did not pay all of their money to the orphanage becoming victims of the double-elimination leg.
Laurence & Zac becoming lost searching for a pit stop.
Andy & Tommy overlooking an important detail and went to the wrong location.
Records
Franchise
First time visits to Malawi, Denmark, and Belgium.
First season to introduce a Hazard.
First season to have a Double Elimination.
First season to have tablets used in the U-Turns, removing the usage of the "Courtesy Of" photos.
Third season to not have a Fast Forward in the race course (after The Amazing Race 14, which the Fast Forward went unaired and The Amazing Race 18, which was not available).
Fourth season to features all male-female team in the final three after the back-to-back chain from Season 5 until Season 7, coincidentally all the final three teams were involved love relationship among their own team member.
First season to have U-Turns on back-to-back legs.
American
First time visit to Indonesia.
Third season to have no one eliminated at the pit stop in the first leg (after The Amazing Race 15 and The Amazing Race 18).
Second season to eliminate multiple teams in the same country (Ethan and Jenna, Ron and Bill & Kaylani and Lisa, all in Indonesia). The first was The Amazing Race 8 were seven teams eliminated in their home country, which was the United States.
First season since the Season 11: All Stars to have four non-elimination legs (Including the one double length leg between leg 9 and leg 10).
Only season after Season 18 to have no teams participating again in All-Stars (2014).
Season
The final four teams dominate the leg wins in this season, (Andy & Tommy with 6 wins, Ernie & Cindy with 3 wins, Amani & Marcus with 2 wins, Jeremy & Sandy with 1 win)
External links
Want to play Survivor yourself?

Join our version, Survivor: Wikia - Sardinia!
Community content is available under
CC-BY-SA
unless otherwise noted.